Welcome to Wyndham Health Care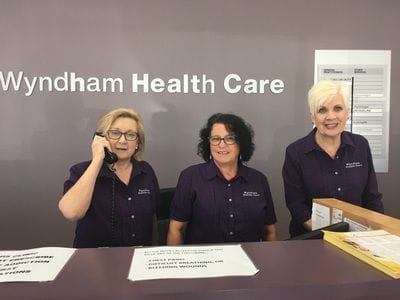 Wyndham Health Care offers our patients a variety of services and facilities to assist with their medical treatment. We strive to provide optimum treatment for all patients in a traditional family manner and place great importance on health promotion and disease prevention.
Wyndham Health Care is a large purpose built general practice located in Werribee in a very busy shopping precinct. A number of Allied Health staff support our doctors in treatment of patients as well as nursing staff.
View our Privacy Policy Here
FOR ALL AFTER HOURS CONSULT OVER THE PHONE - PLEASE CALL 0432 042 738.
MASK POLICY
AS A CLINIC WE SUPPORT THE MEDICAL EXEMPTION RULE BUT AS PER THE VICTORIA HEALTH DEPARTMENT WE ARE ALLOWED TO ASK YOU TO EITHER WAIT IN YOUR CAR OR OUTSIDE ON THE SEATS PROVIDED. THIS IS FOR THE SAFETY OF YOURSELF, STAFF AND VULNERABLE PATIENTS. THANK YOU FOR YOUR UNDERSTANDING.
" COVID 19 VACCINES ARE AVAILABLE AT THIS CLINIC BY APPOINTMENT ONLY".
* Wyndham Health Care are holding a Covid Vaccination Hub for 50 - 60 years on Monday 21st June between 12pm - 2pm and Monday 28th June 2021 between 10am - 2pm at Werribee Baptist Church (red brick building) Cnr Heaths & Derrimut road, Werribee. Please call 97492766 for an appointment as spaces are limited. All new patients welcome, a history summary from your doctor is required. Dr Susan Cox and two of her trusted nurses will be assisting her and are on hand to answer any last minute questions. Please get advice from your regular GP prior if you have any concerns, These Covid Vaccination sessions are only availble for current Medicare Card holders (please bring on the day) all others must still go to Respiratory Clinics as per Government requirements. Note there must be 7 days between Flu Vaccinations and Covid Vaccinations.