Welcome to Wyndham Health Care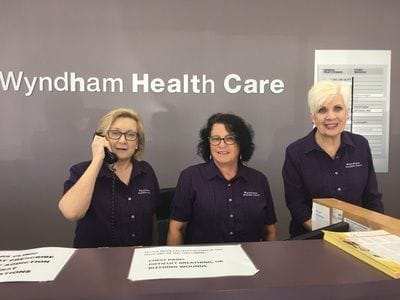 Wyndham Health Care offers our patients a variety of services and facilities to assist with their medical treatment. We strive to provide optimum treatment for all patients in a traditional family manner and place great importance on health promotion and disease prevention.
Wyndham Health Care is a large purpose built general practice located in Werribee in a very busy shopping precinct. A number of Allied Health staff support our doctors in treatment of patients as well as nursing staff.
View our Privacy Policy Here
FOR ALL AFTER HOURS CONSULT OVER THE PHONE - PLEASE CALL 0432 042 738.
Thunderstorm Asthma
What is thunderstorm asthma?
During grass pollen season people may notice an increase in asthma and hay fever. Grass pollen season also brings the chance of thunderstorm asthma.
Thunderstorm asthma is thought to be triggered by a unique combination of high grass pollen counts and a certain type of thunderstorm. For people who have asthma or hay fever this can cause severe asthma symptoms, making it difficult to breath. When a large number of people develop asthma symptoms over a short period of time, this is known as epidemic thunderstorm asthma. These epidemic thunderstorm asthma events don't happen every year but when they do, they can happen during grass pollen season, which is normally from October through December.
Who is at risk?
Thunderstorm asthma can affect those with asthma or hay fever - especially people who experience wheezing or coughing with their hay fever. That's why it's important for people with asthma or hay fever to know about thunderstorm asthma and what they can do to help protect themselves during grass pollen season. Even if you don't think you have asthma or hay fever, don't ignore symptoms like wheezing or shortness of breath - check with your GP.
How can I protect myself if I have asthma or hay fever?
Here are some things you can do to prepare for pollen season:
If you've ever had asthma talk to your GP about what you can do to help protect yourself from the risk of thunderstorm asthma this pollen season. Remember taking an asthma preventer properly and regularly is key to preventing asthma, including thunderstorm asthma.
If you experience wheezing, shortness of breath, chest tightness or continuing coughing then you may have asthma. It's important you talk to your GP and get it checked out.
If you have hay fever see your pharmacist or GP for a hay fever treatment plan and check if you should have an asthma reliever puffer which is available from a pharmacy without a prescription.
If you have hay fever, and especially if you experience wheezing and coughing with your hay fever, it is important to make sure you don't also have asthma. Speak to your GP today about whether or not you might have asthma.
And finally, where possible avoid being outside during thunderstorms from October through December especially in the wind gusts that come before the storm. Go inside and close your doors and windows. If you have your air conditioning on, turn it onto recirculate.
If you develop asthma symptoms, follow your asthma action plan, or if you don't have one yet, follow the four steps of asthma first aid.
For more details about asthma click here