Welcome to Wyndham Health Care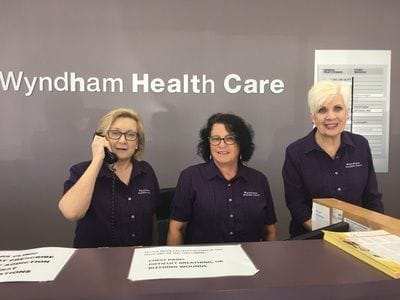 Wyndham Health Care offers our patients a variety of services and facilities to assist with their medical treatment. We strive to provide optimum treatment for all patients in a traditional family manner and place great importance on health promotion and disease prevention.
Wyndham Health Care is a large purpose built general practice located in Werribee in a very busy shopping precinct. A number of Allied Health staff support our doctors in treatment of patients as well as nursing staff.
View our Privacy Policy Here
FOR ALL AFTER HOURS CONSULT OVER THE PHONE - PLEASE CALL 0432 042 738.
WE NOW HAVE REMEDIAL MASSAGE ON MONDAYS ONLY BETWEEN 8AM - 4PM.
WHAT DOES POOR AIR QUALITY MEAN?
EPA Victoria states: Air pollution is when there are harmful levels of gases or particles in the air. Polluted air can impact our health and environment.
Examples of air pollutants are carbon monoxide, ozone, nitrogen dioxide, sulfur dioxide and PM2.5 and PM10 particles. In Victoria, air pollutants mainly come from industry, vehicles and wood burning.
WHAT ARE SOME OF THE HEALTH IMPLICATIONS OF THE SMOKE?
Associate Professor Louis Irving, Head of the Respiratory Service at the Royal Melbourne Hospital said the smoke carried suspended particles which can irritate the lungs and airwaves when breathed in, causing breathing problems and possible asthma attacks.
These same particles can also be absorbed in the blood with the potential to cause cardiac arrest. Professor Irving said the risk is small, but studies have shown that call outs for cardiac arrests increase when air quality is poor.
WHO IS MOST AT RISK?
Professor Irving said people with predispositions to lung diseases such as asthma or chronic bronchitis were particularly at risk as breathing in the particles from the smoke could act as a trigger to a worsening of their conditions. Older people were also more at risk and young babies as their lungs are still developing.
WHAT PRECAUTIONS SHOULD BE TAKEN?
For people who suffer asthma, the elderly and young children, the advice is to stay indoors. Professor Irving said if there were asthmatics who enjoyed daily outdoor exercise such as running, "today is not the day for that."
For those who do not suffer from any respiratory problems, Professor Irving said if being outside could be avoided it should be.
In the event people are outdoors, reduced activity is recommended, and if masks are available to you they should be worn.