Welcome to Wyndham Health Care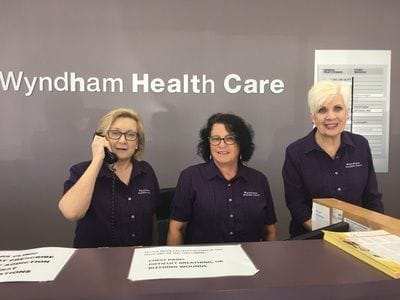 Wyndham Health Care offers our patients a variety of services and facilities to assist with their medical treatment. We strive to provide optimum treatment for all patients in a traditional family manner and place great importance on health promotion and disease prevention.
Wyndham Health Care is a large purpose built general practice located in Werribee in a very busy shopping precinct. A number of Allied Health staff support our doctors in treatment of patients as well as nursing staff.
View our Privacy Policy Here
FOR ALL AFTER HOURS CONSULT OVER THE PHONE - PLEASE CALL 0432 042 738.
Flu vaccine 2019: Do you need it and when should you get it?
The annual flu vaccine will soon roll out across general practices, pharmacies, community health clinics and some workplaces and schools. In some pharmacies, the flu vaccine is already on offer. But the Australian Medical Association (AMA) has urged people to hold off on getting this year's vaccine, warning some pharmacies are offering vaccinations too early.
"We are concerned when pharmacies are out there advertising early flu shots at a time that might not be clinically appropriate".
"People who are vaccinated too early in autumn might have lost protection by late in the spring when the virus has mutated."
So, when is the right time to get your flu shot? And is it necessary for everyone?
Getting immunised
The Australian Government recommends everyone from six months old wishing to protect themselves against the flu should get immunised.
Vaccination is a safe and effective way to protect yourself from flu; people who get vaccinated are at lower risk of getting an infection (and developing serious disease) than those who do not.
"Every year thousands of Australians are dying or being admitted to hospital for complications of the flu. That is entirely avoidable if people have their flu vaccination".
Getting a flu shot also means you help to protect other people, including those who are too sick or too young to be vaccinated, as well as vulnerable groups such as babies, people over 65 years and pregnant women.
The more people who are vaccinated in the community, the less likely the flu will spread.
It's free for those at risk
Under the Federal Government's National Immunisation Program, there are some people that are eligible for a free flu vaccine because they are most at risk of poor outcomes. This includes:
Pregnant women (at any stage of pregnancy)
People aged 65 years and older
Aboriginal and Torres Strait Islander people aged six months to five years
Aboriginal and Torres Strait Islander people aged 15 years and older
People aged six months and over with medical conditions that mean they have a higher risk of getting serious disease (such as diabetes, severe asthma, lung or heart disease).