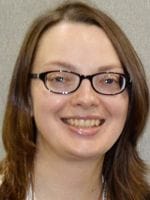 Dr Natalie Marijanovic is a specialist endocrinology and diabetes physician. She completed medical degree at The University of Melbourne in 2005 and trained at The Royal Melbourne Hospital (Melbourne Health) and at Western Health before undertaking her Endocrinology and Diabetes specialist training at Flinders Hospital in Adelaide, Monash Medical Centre and University Hospital Geelong.
With the Clinical Nutrition and Metabolism Unit at Monash Health, she undertook one year of extensive training in the management of overweight, obesity (bariatric medicine) and underweight and holds an appointment as a Consultant Endocrinologist with the unit, seeing inpatients and outpatients. She also has an interest in and has undertaken research in bone disease (Osteoporosis) and diabetes.
She is a member of the Endocrinology Society of Australia, the Australian Diabetes Society, the Australian and New Zealand Bone and Mineral Society, the Australian and New Zealand Obesity Society and the American Endocrine Society and regularly attends meetings and connectedness to stay at the forefront of all endocrinological medicine.
Natalie has expertise in and can help you manage the following problems:
Diabetes including Type 1 diabetes (including insulin pumps), Type 2 diabetes, prediabetes, gestational diabetes, diabetes due to pancreatic problems, pre-conception management of diabetes and preventing diabetes in high risk people.
Bone and calcium problems including low or high serum calcium concentration, Osteoporosis, Osteopaenia, Paget's disease of the bone and parathyroid gland problems.
Thyroid problems including over and underactive thyroid, thyroid nodules and thyroid cancer.
Nutrition including underweight and overweight/obesity.
Pituitary gland problems including prolactinoma, Cushing's disease, pituitary cysts and tumours, hypopituitarism.
Adrenal gland problems including Cushing's syndrome, Addison's disease/hypoadrenalism, overactive or underactive adrenal glands, adrenal gland masses
Reproductive Endocrine problems including menopausal symptoms, delayed puberty, hypogonadism, elevated testosterone or excess hair in women, polycystic ovarian syndrome and infertility.
Difficult to control hypertension and metabolic problems including high lipids/cholesterol.
Please email or fax your referral. We will be in touch with an appointment after Natalie triages it.